Quảng Ninh's APEC dialogue focuses on sustainable tourism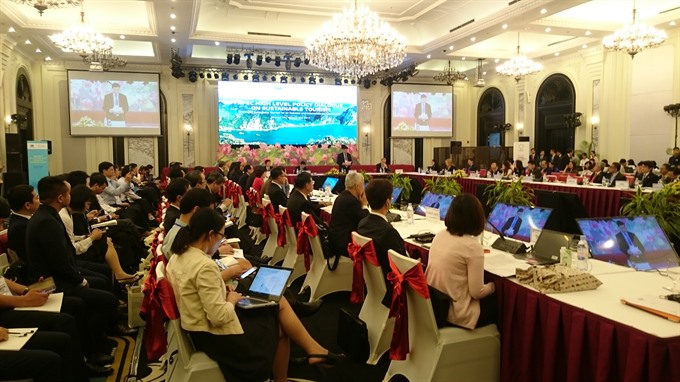 QUẢNG NINH — Việt Nam looks forward to discussions with ministers, heads of delegations and delegates from Asia Pacific Economic Co-operation (APEC) on the challenges to sustainable tourism development to share information and experience with economies and set forth co-operation orientations for APEC's sustainable tourism development in the future.
Minister of Culture, Sports and Tourism of Việt Nam Nguyễn Ngọc Thiện said this at the opening ceremony of the APEC High Level Policy Dialogue on Sustainable Tourism, which opened in Hạ Long City, northern Quảng Ninh Province, on Monday morning as part of an eventful APEC 2017 Year. 
The Vietnamese minister stressed that as the world today was witnessing swift and profound changes, APEC's tourism sector was faced with many opportunities, but also challenges.
"The fourth industrial revolution is forecast to create major changes for the world as a whole, and for the tourism sector in particular. It is imperative that we pursue sustainable tourism development in terms of economy, society, culture and the environment," he said.
"Towards that goal, we will need to work together to ensure socio-economic benefits for all, including stable jobs and income, reduced poverty, uphold traditional values, increased cultural exchanges and understanding, protection and conservation of biodiversity and environmental resources," he added.
Thiện said Việt Nam's tourism sector had seen robust development in recent years and was aiming to welcome 17-20 million international tourists annually, contributing some 10 per cent to the GDP by 2020.
"Nevertheless, we are faced with enormous challenges during this development to ensure economic, social and environmental sustainable development. More than ever, international co-operation to cope with common challenges is becoming a prerequisite to ensure sustainable and inclusive development for people and businesses," he said.
Welcoming guests and delegations to Hạ Long, chairman of Quảng Ninh Province's People's Committee Nguyễn Đức Long said that regarding sustainable tourism, Quảng Ninh was tasked with both developing mining and protecting the environment, particularly that of Hạ Long Bay to promote tourism development, concurrently with speedy and sustainable urban development.
"Quảng Ninh has clearly identified the challenges that it must overcome such as quick urbanisation with ensuring the quality of the living environment, between sustainable development and the negative impacts of climate change and rising sea level," he said.
"With the view of developing quality, international standard tourism that stands out but is sustainable, Quảng Ninh is particularly interested in preservation and promotion of Hạ Long Bay – a world natural heritage site, as well as protection of the environment, creating an environment worth living for citizens and tourists," Long said.
During the event, representatives will discuss and share experiences to promote the sustainable tourism development policy in the Asia-Pacific region. The event also consists of a dialogue with the APEC business community on sustainable tourism development. 
Tourism has always been one of APEC's co-operation priorities since its establishment in 1989. According to the World Travel and Tourism Council, in 2016, tourism generated US$ 1.3 trillion for APEC members' GDP, directly created 67 million jobs and helped the region's 6.1 per cent export growth. According to an APEC Policy Support Unit (PSU) report, every one per cent growth in tourists numbers help reduce 0.12 per cent the number of poor people in the region. 
Tourism is also a major part of economic growth, for every 10 per cent growth in tourist in APEC departure economies, exports will grow by 1.2 per cent and imports 0.8 per cent in each destination economies. Tourism is forecast to be one of the fastest growing sectors in the region, currently becoming an economic pillar in some economies, and making important contributions to others' economic growth. This is among the key drivers promoting inclusive, innovative and sustainable growth, helping to improve people's livelihood and regional prosperity.
In 2016, Việt Nam hosted the fourth APEC Tourism Ministerial Meeting in Hội An, which adopted the "Hội An Declaration on the Promotion of APEC Tourism Co-operation." The country has also regularly and actively participated in most important activities of APEC tourism cooperation and promoted bilateral ties with APEC member economies. To date, Việt Nam has exempted entry visas for nine APEC member economies and implemented electronic visas for three other countries. The top 10 source markets of Việt Nam in 2016 are APEC member economies. — VNS
Politics & Laws – Viet Nam News