Việt Nam, China discuss defence co-operation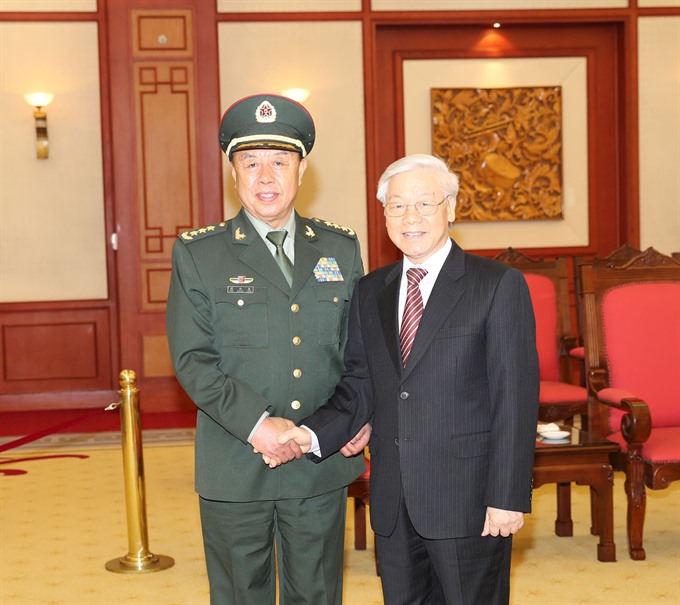 HÀ NỘI — Việt Nam hopes to strengthen trust with China, improving the two countries' co-operation in sustaining peace and stability in the East Sea (South China Sea) based on respect for each other's interests and international law, Party General Secretary Nguyễn Phú Trọng told the Chinese Vice Chairman of the Central Military Commission, Fan Chang Long, yesterday.
Senior Lieut Gen Fan Chang Long, also a Politburo member, is leading a high-level army delegation on a two-day visit to Việt Nam.
The Party Secretary welcomed Fan to Việt Nam to attend the fourth Việt Nam-China border defence friendship exchange programme scheduled to take place in both Việt Nam and China from June 20 to 22.
Stressing the importance of co-operation and exchange programmes between the two neighbours, Trọng said Việt Nam and China should implement signed agreements on co-operative mechanisms, like high-level meetings and friendship exchanges between land and marine border forces and dialogues on defence policy.
"Việt Nam always values the longtime neighbourly relationship and the comprehensive strategic partnership with China," he told Fan.
Fan, for his part, said China highly appreciated the relationship with Việt Nam, adding that the Chinese army, together with the Vietnamese army, was determined to carry out agreements between the two countries, contributing to the development of bilateral ties.
The East Sea dispute surfaced once again at a meeting later in the day between President Trần Đại Quang and Fan.
Quang said any dispute should be handled by peaceful means, with respect for each other's interest and in line with international law, in particular to fully and effectively implement the Declaration on the Conduct of Parties in the East Sea (DOC) and striving for a Code of Conduct (COC) in the region.
Fan responded that the East Sea issue should be  handled peacefully with great caution to avoid harming the friendship between Việt Nam and China.
Earlier on the same day, Vietnamese and Chinese high-ranking military officers reviewed the outcome of recent cooperation between the two armies and agreed on the cooperation in the time ahead to effectively implement the statement on joint vision on defence co-operation until 2025 that was signed in January 2017.
These formed part of the talks in Hà Nội between Fan and Gen Ngô Xuân Lịch, Politburo member, Vice Chairman of the Central Military Commission, Minister of National Defence of Việt Nam. The two sides also discussed regional and international issues of mutual concern. 
Following the talks, Lịch and Fan signed a cooperation agreement on personnel training between the defence ministries of Việt Nam and China. 
Economic prospects
Prime Minister Nguyễn Xuân Phúc also met with Fan yesterday, saying that the two countries' economies have benefited from their strategic partnership.
Fan said he believed Việt Nam has the potential to further develop bilateral trade with China, which is ready to co-operate with Việt Nam to effectively carry out the regional One Belt One Road (OBOR) Initiative and the bilateral Two Corridors, One Economic Belt (TCOB) development plan.   
The OBOR, dubbed the 21st century Silk Road, is an ambitious development strategy proposed by Chinese President Xi Jinping focusing on connectivity and cooperation between Eurasian countries.
The TCOB, meanwhile, is expected to develop a road and express railway system between Việt Nam and China, including the Nanning-Lạng Sơn-Hà Nội-Hải Phòng-Quảng Ninh, Yunnan-Lào Cai-Hà Nội and the belt road in the Gulf of Tonkin. — VNS
Politics & Laws – Viet Nam News